About Us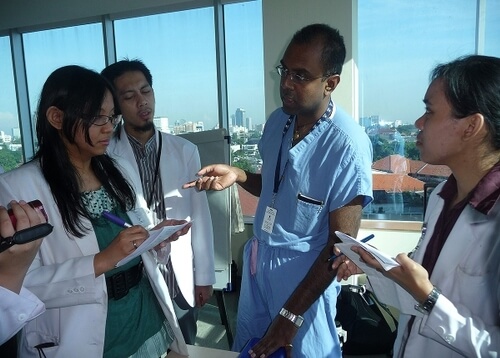 Clear Vision Foundation was established by Drs. Bala Ambati, Hunter Cherwek, and K.V. Chalam in 2017 to facilitate and assist outreach programs to restore sight to those in need locally and globally, promote research in vision science to help develop new drugs for blinding diseases, and help educate the public and eye care providers about eye disease.  It is a nonprofit organization with US IRS 501(c)3 status.
Clear Vision Foundation partners with other organizations and individuals to further the mission of fighting blindness. Dr. Ambati donated his time for 2 weeks in India in 2017 with SightLife and Aravind Eye Hospital to perform free cornea transplants and train local surgeons in techniques of full-thickness and partial-thickness cornea transplantation.  The foundation also sponsored a visiting research scholar at University of Utah, Dr. Sangeetha Ravi Kumar, to facilitate her investigations in macular degeneration. Dr. Ambati and volunteer staff regularly conduct free eye clinics at the Eugene Mission in Oregon.
In 2018, Dr. Chalam donated his time with ORBIS to train doctors in Barbados on retinal disease and management.
All the directors of Clear Vision Foundation are dedicated to fighting blindness and restoring vision to those in need.  Drs. Ambati, Cherwek, and Chalam have worked all over the world with multiple nonprofit organizations, hospitals, and local surgeons in cornea, cataract, retina, and pediatric eye surgeries.